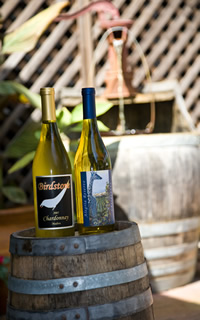 Our Wine Club members enjoy early access to new releases, exclusive wine club bottlings, Birdstone events and rare library wines. Along with 2 bottles of wine four times a year (Feb, May, Sept & Nov) members receive the Birdstone newsletter with all the current events, Birdstone news, and detailed information about the wines. Club members also receive an invitation to our free Wine Club Member BBQ each summer, special discounts on our winemaker dinners & 20% discounts on all wine and logo wear purchases anytime. Enjoy our Obsession; join the Birdstone Wine Club!
Birdstone Wine Club Benefits and Details
• Two Premium Bottles Shipped to Your Door Four Times Per Year
• Average Shipment is Less than $40.00 Including Taxes and Shipping
• 20% Discount on Current Releases
• 20% Discount on Logo-Wear
• New Releases, Exclusive Club Bottlings, Library Wines
• Newsletter with Birdstone Events & Winemaker's Notes
• No Membership Fee
• Please Provide a Daytime FEDEX Address Where Someone 21 Years of Age Can Sign for Your Package (business addresses preferred).
JOIN THE BIRDSTONE WINE CLUB NOW!
* We ship to AL, AR, CA, CO, CN, DC, FL, GA, HI, ID, IL, IA, LA, MI, MN, MO, NE, NV, NH, NM, NY, OR, SC, TX, VE, VA, WA, WI, WV, WY.
For all other states please Contact Us as regulations often change.